Recently things have been crazy full on.  I have new routine, following my re-acquisition of the home and kitchen, when HL went back to work full time. I feel much happier and more connected to be honest, but I am also much busier. I feel a little bit like a finely tuned machine, maximising the time that I have, and I end up running around trying to fit everything in. So Saturdays have become the days for catching up and Sundays have become the time for all of the other great things I love to do. and now and then, one of those is to have a relaxed masturbation Sunday.
HL and I have always used Sunday morning for our site admin day. We don't do as good a job as we would like to but we do talk about it and plan for it. We have loads of good ideas and loads of good intentions, but only an hour or so on a Sunday morning to try to get things done. I felt productive though, this morning, and it felt nice to be sat around in cosy socks, eating toast and planning, posting and updating. Although time seemed to slip past fast, it felt good and we felt like we had achieved something.
Perhaps this was why, following a shower and my own personal admin, I felt horny and fancied a quick wank. I know this sounds sad – turned on by a completed to do list and a soft mound? – but hey, we don't all have to be the same. Not wanting to get myself into bother I was careful to ask for permission first. Permission was granted and HL left for the bathroom, saying that if I wasn't too quick he would let me suck his cock when he came back in.
We were lucky enough to receive a delivery of toys a month or so ago from the very generous Satisfyer.  One of the items in the package was the Pro 3 Vibration, which I had tried once before.  I have read other reviews and comparisons so I am sure you will be able to find the finer points online if you so wish, but this is the story of a delicious Sunday wank, and not a product review. Suffice to say, it looks nice, it feels nice, and this is what I was able to do with it.
Clit stim is always the way I would go and the fact that there is a toy which fits snugly onto my clit in the way that the air pulse vibes do, feels a little bit naughty for me in the fact that it is so intentional. Perhaps that just added to the mood, but slipping it under the covers, knowing that soon I will be delivered a crushing orgasm with very little effort, always feels a little bit illicit, in a good way of course. So no time wasted, on it went. And breathe …….
Doing virtually nothing to bring about an orgasm is great for me as it leaves my mind to wander. My fantasies are difficult to describe as they are based on snapshots of images and thoughts and ideas and don't have a cohesive story line to them, more is the pity.  The thoughts come upon me fast, moving at lightening speed so that to explain them or write them down slows them to a pace which doesn't echo the experience itself. But as I slowly increase the power of the suction, the ways that HL is using and controlling my body in my mind, become more and more extreme.
I am getting lost in the experience and this is when he introduces the others, allowing them to see, telling them about what I feel, and what I am hoping he will do to me next. This is a recurring theme and I am not going to analyse at the moment what this may indicate for my future. Suffice to say, it works! In my fantasy, he knows everything I need before I know it myself, but in that split second I know he has it right and he shares that, to my humiliation, with anyone who cares to listen. They know my darkest thoughts, my deepest desires and he is playing and toying with me right in front of their eyes.
He uses the over-stimulation of my clit so that I lose control, opening myself up and allowing him to push things, fingers, toys, perhaps even his cock, into my holes as I am displayed there wantonly, rolling on the pleasure that is building. I am not usually one for different vibrations and patterns but I shift through a few of those on offer, arriving at one with a strong pulse. Now, in my mind's eye, he is flicking my clit with the little pussy flogger he has, or tapping it with his cane. I cycle between the two as I picture the scene and I writhe a little inside myself.
There is no need to push into the feeling and no way to pull back, and I am suspended there, at the mercy of this little toy, my own imagination, and the memories which light my muscles and responses with the familiarity of thoughts and feelings that flood back so easily. He is not there but he is there and he works me as it works me until I feel it take me over and crash through me, delightful, delicious, and complete. Well complete apart from the aftershocks that always come, of course.
And I am still lying there a bit later, enjoying the peace and the indulgence when he comes in from his shower, cock ready.  Things take a different turn then, but it is a good turn and, by the time I have dreamily then greedily taken him in my mouth, been well and truly fucked and am ready to get dressed, I make the lunch, write this post, and it all feels like a day well spent.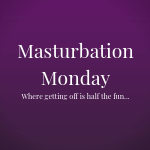 To see who else is taking part in Masturbation Monday, just hit the badge.
Related post – The power of touch