"Everything you can imagine is real"
Pablo Picasso
She imagined herself on holiday. Somewhere quiet where nobody knew them. She had thought of that when she bought the dress. I wasn't fancy of course, that would be too obvious; it was enough to draw attention without being indecent, she felt. She had got the right response when she showed him, there in their bedroom, when she was feeling brave and frivolous and like the world could hang because she didn't care what anyone thought. It was sheer, button-through and voluminous at the skirt while being more fitted at the top. It has potential, she had thought, as she danced around the bedroom the detachable under-slip discarded to reveal the full effect  to him.
She could see his reaction again when she wore it at his parents' house, slip intact this time. His eyes registered, and his memory triggered, and  he was touching her all day, hands on her arse as she walked past and meandering up under the chiffon, stroking her inner thigh as they sat in the garden sipping wine. She loved the way that clothes did that, and thought about it as she undid each button later than night.  He had pushed her suddenly backwards onto the small bed, desperate to get at her, fucking her hard despite his parents in the next room watching different movies on separate ipads.  A good buy, she had thought to herself, and a great start to their trip.
A few days later, in the cooling heat of the french sun, her imagined possibility of the dress was finally realised. As they walked that evening he stopped and told her to remove the silk slip which skimmed the curves of her body under the dress. Part of her shrunk from the idea, the frivolous and carefree mood of the privacy of their bedroom replaced by a feeling of anxiety at the exposure that she was about to undergo. Reluctantly, and hesitantly, she undid the buttons enough that the slip could be removed. Laughing, he took her hand in his, commenting that he doubted anyone would even notice.
She knew better than to argue, and anyway, had already slipped into that place where she would not, where she was his. So hand in hand they walked past the windmill and through the vines as the evening breeze played with the chiffon material and caressed her body underneath. And those they passed did notice, of course, but said nothing, registering almost too late exactly what they had observed in this couple, so together, so in love, who walked towards and then past them with only a word of greeting and a smile.  And she wondered at herself and her imaginings, which always felt thrilling when he made them come true. For everything you can imagine is real.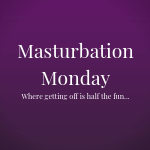 Click to see who else is taking part in Sinful Sunday and Masturbation Monday this week.
Click here for more from me on Play, Scenes and Kink