M is for Mental Bondage
Today has been all about the power of the mind. Two of the things which really interested me were mindfucks and mental bondage, and the latter was part of the practical session today so I was lucky enough to try it. I think I am fascinated by the relationship that the mind has with the body in terms of arousal and the experience of pain and pleasure. I had not realised the link before, but have learnt today that the mind is the greatest sex organ of all. This makes so much sense for me as regular sex type activities have never really got me excited in the same way that it does when there is an edge to things.
I feel quite relaxed when I go to meet Quillon. He is one of the younger teachers here and is incredibly attractive so I feel that I have drawn a lucky straw this time. Not that I would not have been happy with any of the teachers, but I have wondered what it would be like to be with someone who be naturally my type in the real world. I am thrown a little off guard by his appearance as I walk into the room though. He is wearing well cut jeans and a white shirt, which is open so that I can see his chest. He looks completely different to the way he does during class, and I feel giddy inside as I walk towards him.
There is a large chaise longue next to where he is standing and he signals me forward. He explains that he wants me to be bound by his will and reminds me that my respect for him should make this more meaningful and a more stronger tie, than even if he were to use real shackles. His voice is deep and commanding and I shiver inside at the thought of him shackling me to the large four poster bed at the other side of the room, but nod in understanding. He asks me if I remember my safewords and tells me that must remember that they are there if I need them. That he will stop if it gets too much.
My excitement increases yet further at the thought that this man may be about to push my limits. I am already naked, as is the prescription of the school, and I can feel myself becoming wet. All of this and he hasn't even touched me yet! It seems crazy to me that my body is so easily responsive to him, so far under his control, with only a few words. And my head is thinking about him and what he might do, feeling a bit giddy and jumbled inside, when he tells me to lie down on the chaise.  I lie down and feel a bit clumsy, aware of my legs which I am pushing together but which want to fall apart.
He looks at me for a short while and I feel awkward and hot. My skin sort of prickles and the tension builds a bit more. He crouches down at the end of the couch and runs his hands over my legs. He lifts each, placing my feet on the floor either side, opening me up to him. He then tells me to place my hands behind my head, which I do.
"Close your eyes," he says.  "I don't want you to move. I want you to keep perfectly still. Whatever happens, you must not move and you must not open your eyes. Do you understand?"
"Yes Sir." I manage, although I am trembling and struggling to speak even that much.
"Good girl. And I will ask one more thing of you. You must not speak. You may answer if I ask you a question, which I may do. And you can, of course, use your safeword if you need to, but you must remain silent apart from that."
And then there is silence. There is silence which grows bigger between us as I wait. It seems to fill the room and engulf us both, and still I wait. Out of nowhere his finger is on my mouth, where it rests for a moment before trailing in a direct line down my body, arriving to rest on my clit. I want to push into his finger so badly but it sits motionless, teasing me. I feel him move and his warmth and heat as he takes first one nipple, and then the other, into his mouth, sucking each in turn. Then he is back again with his trailing finger, at first just a whisper across my body, and then firmer. I let out a little moan and feel a sharp spank across my thigh.
"I said no noise!" he reminds me, firm but not cruel, and the sting of his slap turns to a tingle which radiates through me. His hands are all over me now, waking my skin up and making it alive with the sensation. Again he pauses, finger on my clit which I feel harden to his touch. I want to scream at him and buck my hips to rub myself against his pad which sits there motionless. I am sure I can feel him smile.
"Oh you are making this so easy," he says, and my face heats. I can feel my clit throbbing and I wonder if he sees it pulse. I ache so badly and I am not sure how much longer I can keep quiet and still. He leans up then, pressing his body against mine and he kisses me. I must move, pushing into his hand because he nips my lip as he releases me and tells me that he doesn't want to have to remind me again.
I am fighting within myself now. I try to relax and take myself somewhere else, try to diminish the sensation but I am completely under his grip. And as he circles his finger around my clit, I am lost to it and to him. I would do anything for him but this, this is too hard. I feel it well up inside me again and feel that I might actually explode. I briefly wonder if a clit ever grew so big and so desperate that it actually burst, as it feels like a real possibility. The pain of the ache and the fire of the burn within me has spread so that everywhere seems to need his touch and I can't think and can't focus.
He thrusts his finger inside me then and it feels so good but not enough. I want more and need more. I need him soon and have never felt this desperate and greedy for anything. I want him to hurt me, to force me open and fill me up. With one finger still inside me, another circles my clit, and somehow he manages to reach his other hand up to pinch my nipple, hard. I hear a strange noise, and realise that it has come from me.
"Oh dear," he says, withdrawing from me immediately. "I think I will have to stop and allow you time to gather yourself."
He returns to touching me, stroking my skin gently and giving me time to adjust to the lighter sensation. After a time he tells me that I can open my eyes again. It is a shock at first but then I readjust to the light and feel myself coming back a bit to my own reality, if any of this is my reality. He talks to me gently then, telling me that I did well. He says that I coped with the lesson and that it would have been fun to have pushed me further, but reminds me of the school policy which limits sexual contact. I tell him that I understand and that I think I have grasped the power of mental bondage.
* * * * * * *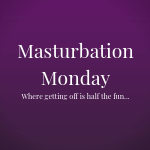 See who else is writing smut for Masturbation Monday this week
To catch up on other posts in this series please see April's Submissive Training Journal
Or read last year's letter M post for the A to Z blogging challenge: Mindset, Maintenance and Middles
You may also like this piece about bondage and how it works for us.